| | |
| --- | --- |
| | |
"Barrelhouse Bonni" McKeown, the author of "West Side Blues Blog," has
played piano and written about blues music for over 15 years.
www.barrelhousebonni.com She has led classes for young and old on how to
make up their own blues tune. www.chicagoschoolofblues.org
She stayed on the West Side from 2004-05, then wrote articles on West Side
Blues for Big City Blues Magazine and has helped promote West Side Chicago blues singer and drummer Larry Hill
Taylor (stepson of guitarist Eddie Taylor). www.larrytaylorchicagoblues.com
She co-produced Larry Taylor's 2004 debut CD They Were in This House,
reissued in 2011 by Wolf Records. She is in the process of producing a movie based on Taylor's life story starring Leon as Larry's stepfather and Guy Davis in the role of Jimmy Reed: The Rhythm and the Blues
Bonni returned to stay in Austin in 2017, and continues her efforts to increase blues education to keep kids off the street. She promotes blues as a point of local pride and a possibility for economic development and tourism to benefit the community.
Latest News Articles
Scott Fabino was born and raised in Austin, in a 1970s middle class Italian community around North and Central
Master barbers Alexander "Great" Fowles and Joshua "Kool" Kruel gave teenagers, ages 13 to 18, free haircuts at the Austin Branch.
Illinois Attorney General Lisa Madigan announced that her office would hold a series of Consent Decree Community Roundtables throughout the city.
Henry Farmby may have retired from the U.S. Postal Service after nearly five decades, but he won't stop serving the West Side.
Latest Blogs
Generations did not seem so far apart as people picnicked, checked out information from health groups, and climbed on playground equipment in Hubbard Park. They were all grooving to live West Side blues by Larry Taylor and his Soul Blues Healers band, sponsored in BUILD's "Light in Night" program from June 30 through all Fridays in July.
Larry Taylor and the Soul Blues Healers will be playing Saturday June 2, from 8 to 10:30 p.m. at Blues in the Sanctuary, a fundraiser for the ministry of St. Martin's Episcopal Church, 5700 W. Midway Blvd., Chicago IL 60644. This 140 year old church, with an active music and social ministry is still doing good in the hood.
The sound of Chicago's mighty blues shuffle comes from the bass player and drummer in the band. The rhythm section don't usually grab headlines, but without them, there is no Chicago blues. Their reward is usually just a few bucks and the satisfaction of driving the music.
When one of these talented West and South Siders leaves this world, musicians turn out in droves to honor them--as they did last week for bass player Michael "Sleepy" Riley who died April 11 at age 59.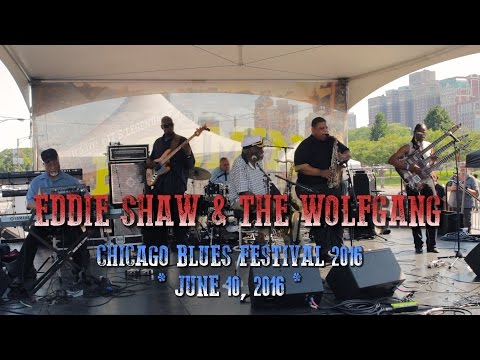 A West Side blues giant, Eddie Shaw, has left us. He brought his saxophone to Chicago from Arkansas in 1957, traveled the world and never stopped playing. He died Tuesday Jan. 30 at age 80, leaving the blues to his son and a whole younger generation.