| | |
| --- | --- |
| | |
"Barrelhouse Bonni" McKeown, the author of "West Side Blues Blog," has
played piano and written about blues music for over 15 years.
www.barrelhousebonni.com She has led classes for young and old on how to
make up their own blues tune. www.chicagoschoolofblues.org
She stayed on the West Side from 2004-05, then wrote articles on West Side
Blues for Big City Blues Magazine and has helped promote West Side Chicago blues singer and drummer Larry Hill
Taylor (stepson of guitarist Eddie Taylor). www.larrytaylorchicagoblues.com
She co-produced Larry Taylor's 2004 debut CD They Were in This House,
reissued in 2011 by Wolf Records. She is in the process of producing a movie based on Taylor's life story starring Leon as Larry's stepfather and Guy Davis in the role of Jimmy Reed: The Rhythm and the Blues
Bonni returned to stay in Austin in 2017, and continues her efforts to increase blues education to keep kids off the street. She promotes blues as a point of local pride and a possibility for economic development and tourism to benefit the community.
Latest Blogs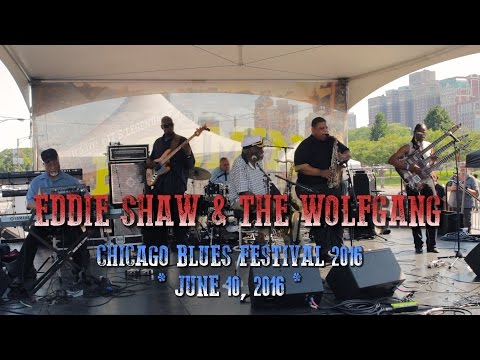 A West Side blues giant, Eddie Shaw, has left us. He brought his saxophone to Chicago from Arkansas in 1957, traveled the world and never stopped playing. He died Tuesday Jan. 30 at age 80, leaving the blues to his son and a whole younger generation.
The Boombox popup store at 5846 W. Chicago Ave. is a tiny gray, up-cycled concrete thing. It's a temporary incubator rented by little businesses, and this month Schweet Cheesecake, an enterprise of the Weddington family, is trying it out.
As customers stopped in to pick up the home made, mouth-watering cheesecake, last Friday, we incubated a small conversation about re-growing the West Side and the South Side. We could start by branding these neighborhoods based on the music that incubated in Chicago itself: blues and jazz.
Columbus Park is hopping with West Side music this month. Larry Taylor and the Soul Blues Healers will perform a blues tribute Friday Aug. 25, at 7 - 8:30 p.m. at the Columbus Park Refectory, 5701 West Jackson Blvd. It's free for all ages, the last in amonthly summer concert series presented by Chicago West Community Music Center.
On Friday Sept. 1, Ike Carothers and Ald. Chris Taliaferro are sponsoring the third annual Blues Fest from 6 to 10 p.m. in Columbus Park, featuring Sharon Monique and the West End 40.